Funeral insurance: all you need to know in 4 questions
Yohan Leuthold
Funeral insurance: all you need to know in 4 questions
What is the difference between life insurance and funeral insurance?
The main difference between the two is that the funeral insurance covers the costs of the insured person's funeral and all the administrative procedures that this entails.
Life insurance provides financial compensation to the beneficiaries of the policy.
Why take out funeral insurance?
It is recommended that you take out funeral insurance to cover all expenses related to a death. This insurance also offers support to the family in order to manage the procedures related to the death. The insurance will cover the costs of the funeral up to the limit of the insured capital. As for guarantees, they may vary depending on the insurance companies.
What are the main guarantees of funeral insurance?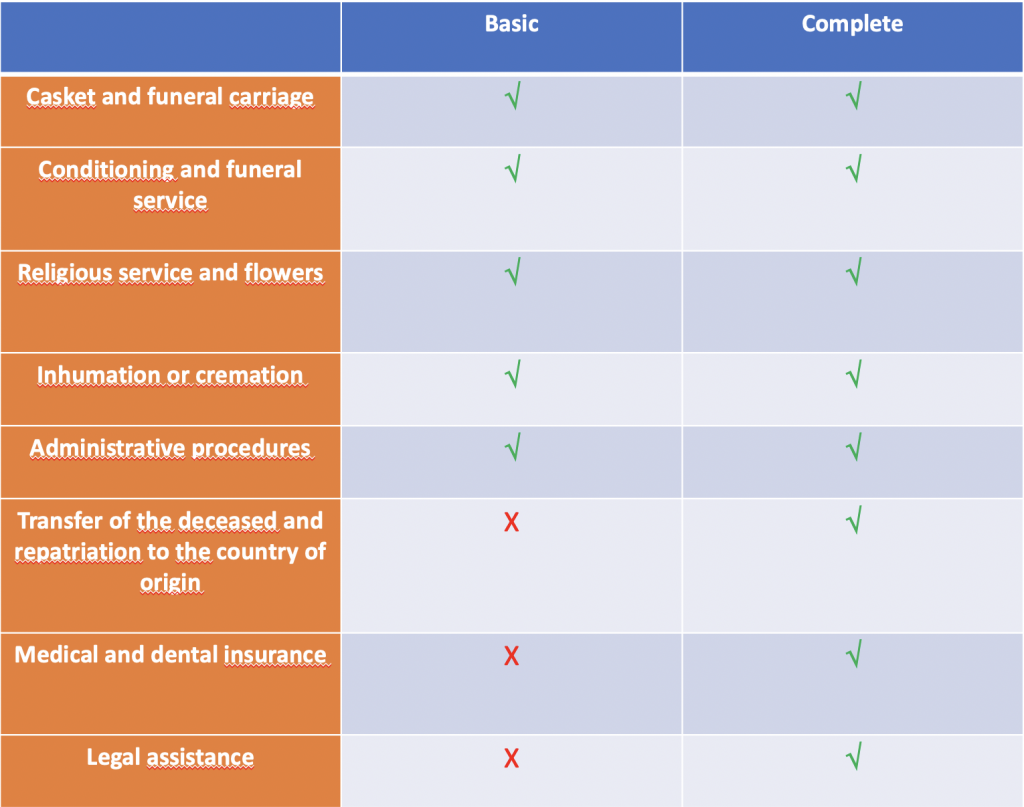 What types of funeral insurance are available?
The price of funeral insurance is determined according to the age of the insured person and the town in which he or she resides. There are 3 possible options:
1-"Prima "nivelada": constant premium; the price of the insurance is constant throughout the life of the insured. With the exception of capital increases, the premium is constant. 90% of funeral insurances in Spain are taken out with this formula.
2-"Prima natural": premium will vary throughout the life of the policyholder's contract. The amount changes at each annual renewal date, adapting the price to the age of the insured or to changes that may affect the services covered.
3- "Prima mixta": premium that combines the level premium and the natural premium. The evolution of the premium will have as a constant reference with the age of the client at the time the contract is taken out. The natural premium can be maintained until the client reaches 65 years of age, after the premium will be constant.
Where can I get the best Funeral insurance?
That's an easy one! If you want to compare the best insurance companies and get an effective and quick service with English speaker specialists contact us!
Telephone: +34.93.268.87.42
WhatsApp: +34.627.627.880
Email: [email protected]
Inov Expat : Who are we?
INOV Expat is an insurance brokerage firm aimed at expatriates in Spain and Portugal
INOV Expat is right there to help you: giving you the best advice on insurance, in English!
In fact, after 14 years, INOV Expat, an insurance brokerage firm, specialises in insurance for French and English-speaking expatriates in Spain and Portugal, at their destinations. As insurance professionals, we've signed partnership agreements with the best insurance companies in the market. All INOV Expat consultants are expatriates who will be able to advise you best in the language of your choice (English, French, Russian, Spanish, Portuguese…)
Ask you free quote online : car, health, home, life, travel, others. Look at our website inovexpat.com or contact us by e-mail at [email protected], by telephone at +34.93.268.87.42 or WhatsApp +34.627.627.880