Pets insurance : How does it work in Spain?
Yohan Leuthold
Pets insurance : How does it work in Spain?
Pets insurance : In Spain, home insurance covers the civil liability of your pet (dog or cat). However, if your dog appears in the list of dogs declared potentially dangerous by the Spanish state, the law obliges you to take out a civil liability insurance for your animal. Your home insurance does not cover the Civil Liability of these dogs.
Here is the list of the 8 dog breeds declared dangerous in Spain:
-Pit Bull Terrier
-Rottweiler
-Dogo Argentino
-Staffordshire Bull Terrier
-American Staffordshire Terrier
-Fila Brasileiro
-Tosa Inu
-Akita Inu
There is therefore a legal obligation to take out insurance only for these eight breeds. For the rest, it is up to the owner to choose whether or not to take out insurance for his pet.
Customizable Cover
In Spain, animal insurance is a customizable. The owner of the animal chooses its cover criteria by criteria. There is two main choices: civil liability and veterinary assistance.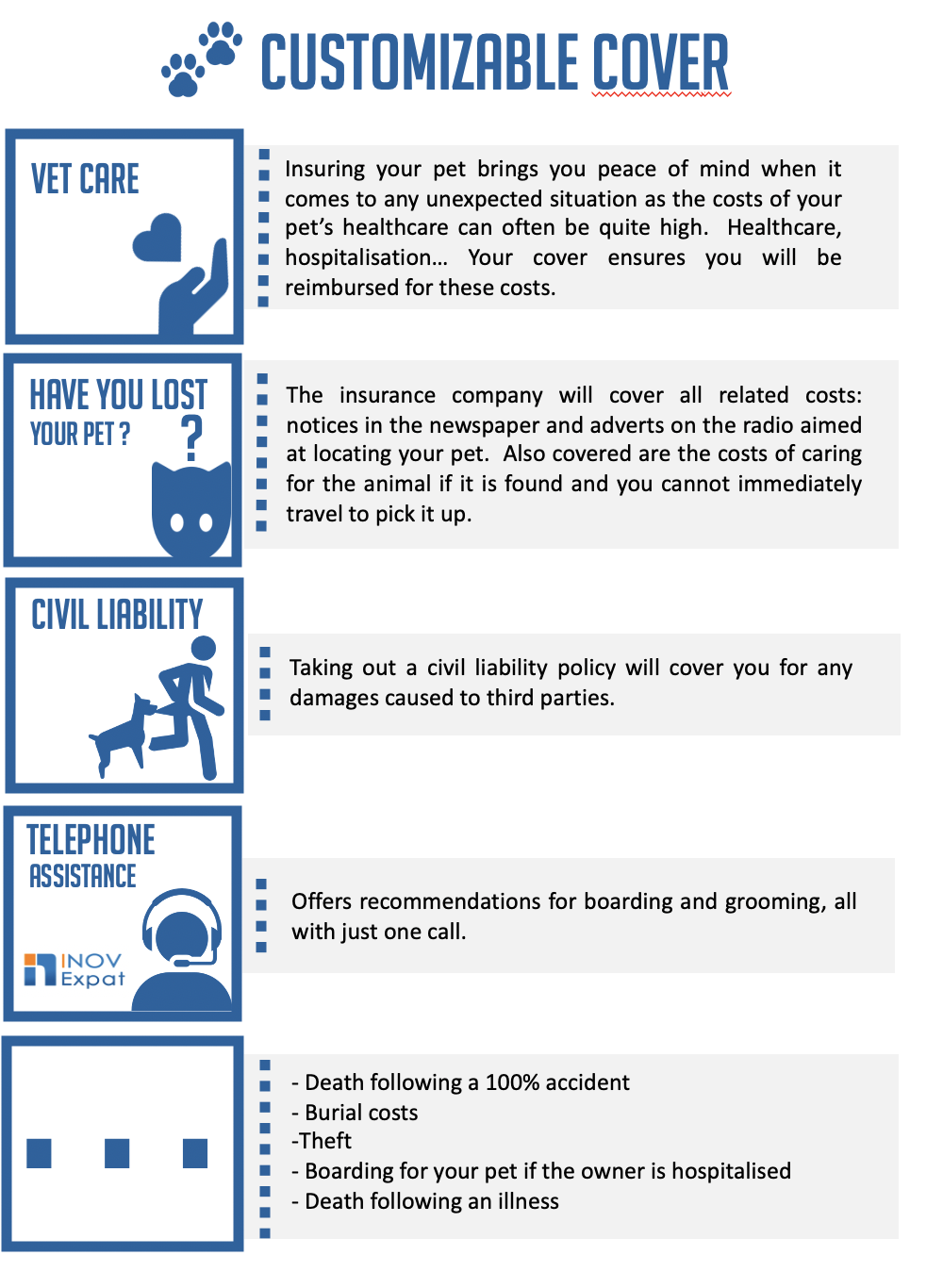 Pets insurance : Why is it important ?
Your pet, like you, needs to be covered and protected. Follow-up visits and vaccines are essential to maintain good health. The budget associated with health can be significant, and it is often advisable to take out insurance. A damage, an accident caused, or a small bite are events that happen more often than you think. The two most popular insurances are civil liability and veterinary assistance.
Inov Expat : Who are we?
INOV Expat is an insurance brokerage firm aimed at expatriates in Spain and Portugal
INOV Expat is right there to help you: giving you the best advice on insurance, in English!
In fact, after 14 years, INOV Expat, an insurance brokerage firm, specialises in insurance for French and English-speaking expatriates in Spain and Portugal, at their destinations. As insurance professionals, we've signed partnership agreements with the best insurance companies in the market. All INOV Expat consultants are expatriates who will be able to advise you best in the language of your choice (English, French, Russian, Spanish, Portuguese…)
Ask you free quote online : car, health, home, life, travel, others. Look at our website inovexpat.com or contact us by e-mail at [email protected], by telephone at +34.93.268.87.42 or WhatsApp +34.627.627.880