All you need to know about business insurance
Julia Jannin
All you need to know about business insurance
What is business insurance?
The "Comercio" insurance is a type of insurance policy designed mainly for SMEs and offices. It is an insurance policy that covers compensation for damages related to the company's activity. It covers possible damage caused by the most common claims on the building and its contents:
Building means the "walls" of a commercial premises, an office, a warehouse as well as all fixed water, gas, electricity installations...

Contents

means furniture, computer equipment, machinery and stocks.¡
The insurance includes civil liability in the event of claims by third parties as owner or tenant of the premises and for the activity carried out.¡
Examples of commercial insurance: store, office, restaurant/bar, bakery, shop....
What are the main guarantees of the business insurance?
In general, the range of claims covered by commercial building insurance is very wide:
Fire and explosion
Flight
Atmospheric damage
Water damage
Electrical damage
Window breakage
Liability Operating, Real Estate/Rental, Product and Employer's Liability
24/7 assistance
Legal and IT assistance
The Comercio insurance includes civil liability in the event of claims by third parties as owner or tenant of the premises and for the activity carried out.
It is also possible to include as an option the product/service liability - (guarantee strongly recommended for a restaurant, for example, to cover food poisoning) - as well as possible claims against employees through the employer liability.
Other insurances such as Professional Civil Liability are also closely linked to the professional activity of the insured and may even be essential for the exercise of his profession. In this case, you will need to take out specific insurance to cover the activity. You can click on our article exclusively dedicated to professional liability insurance by clicking here.
Another very useful cover for businesses is the one that covers loss of profits. With this cover, it is possible to cover the income that a company ceases to receive due to a claim covered by the contract (fire or water damage, for example). It covers the gross margin that the company loses due to the cessation of activity and the fixed expenses that must continue to be paid despite the loss such as salaries, suppliers, taxes, etc.
Who can take out business insurance?
Natural or legal person, owner of the property to be insured as tenant or owner of the premises. The owner will have to insure the "walls" and civil laibility insurance and the tenant will have to take care of its contents and civil liability. He will also be able to insure the work carried out in the premises.
LIBERTY Offer ( until 26/05/2021) :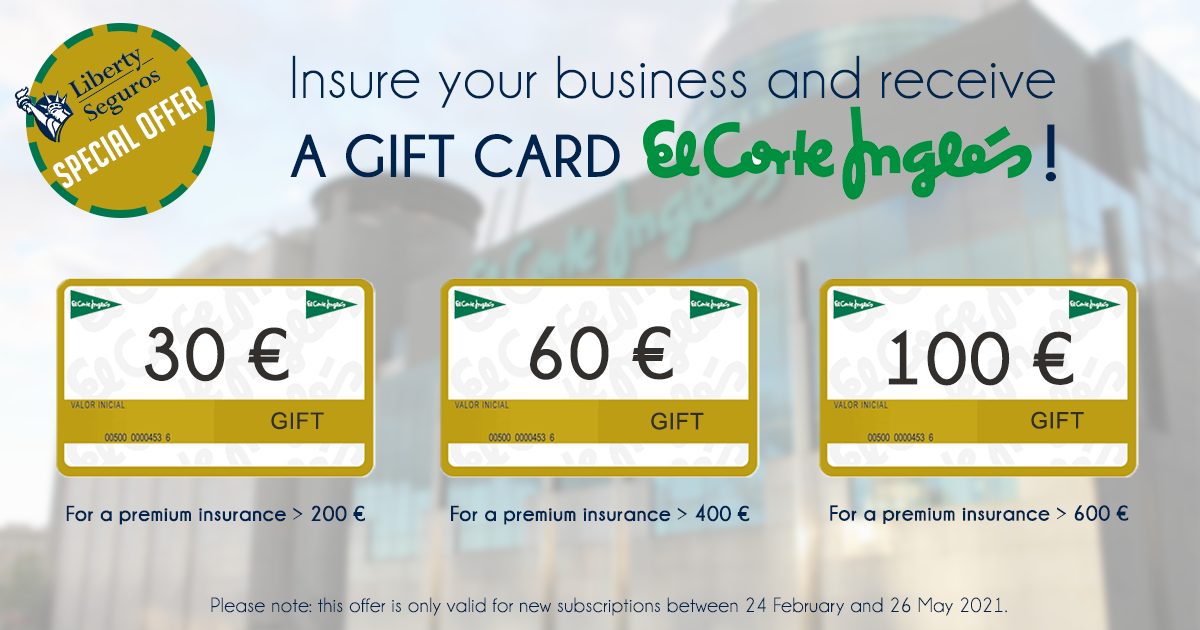 Corte inglés gift card of 30€ for any insurance with a minimum premium of 200 euros, 60€ if premium over 400€/year and 100€ if premium over 600€/year.
There are many insurance companies and different contract options. For this reason we recommend that you use the services of a specialist broker who will be able to guide you. If you have any questions, do not hesitate to contact us directly by telephone on +34 93 268 87 42 or through WhatsApp on +34 627 627 880 or by email: [email protected].
Inov Expat : Who are we?
INOV Expat is an insurance brokerage firm aimed at expatriates in Spain and Portugal
INOV Expat is right there to help you: giving you the best advice on insurance, in English!
In fact, after 14 years, INOV Expat, an insurance brokerage firm, specialises in insurance for French and English-speaking expatriates in Spain and Portugal, at their destinations. As insurance professionals, we've signed partnership agreements with the best insurance companies in the market. All INOV Expat consultants are expatriates who will be able to advise you best in the language of your choice (English, French, Russian, Spanish, Portuguese…)
Ask you free quote online : car, health, home, life, travel, others. Look at our website inovexpat.com or contact us by e-mail at [email protected], by telephone at +34.93.268.87.42 or whatsApp +34.627.627.880