Our Referral Program
Yohan Leuthold
Our Referral Program
Administrative procedures, confusion… Arriving in a new country is never easy for anyone. What if you let INOV Expat help you? Your new departure in unknown territory is celebrated: this is why we offer you to earn money thanks to your insurances. Yes it's possible. Zoom on our referral program!
Insurance broker for expatriates living in Spain and Portugal, INOV Expat wishes to offer to its customers a reward if they "refer" us and talk about us to their entourage, friends or professional network.
Who is this referral program for?
It is for everyone! All INOV Expat clients can refer a friend who subscribes an insurance. The process is very simple: you just need to tell your referred friend (friend, colleague, relative, family, etc.) to mention your name when requesting a quote or when subscribing the contract so we can find out your identity. You will receive 40 € directly on your bank account and the referred person will receive 20 € ! It's that easy !
For what kind of insurance?
We have concluded partnerships with the best insurance companies on the market. More than 20 different insurance companies. So we offer a wide range of contracts for both individuals and companies: for more details on our health, auto, motorbike, home, life, travel, companies... insurances and all our offers, do not hesitate to consult our home page where you can get a lot of information and free insurance quotes online or contact us directly by phone at +34.93.268.87.42. or by WhatsApp +34.627.627.880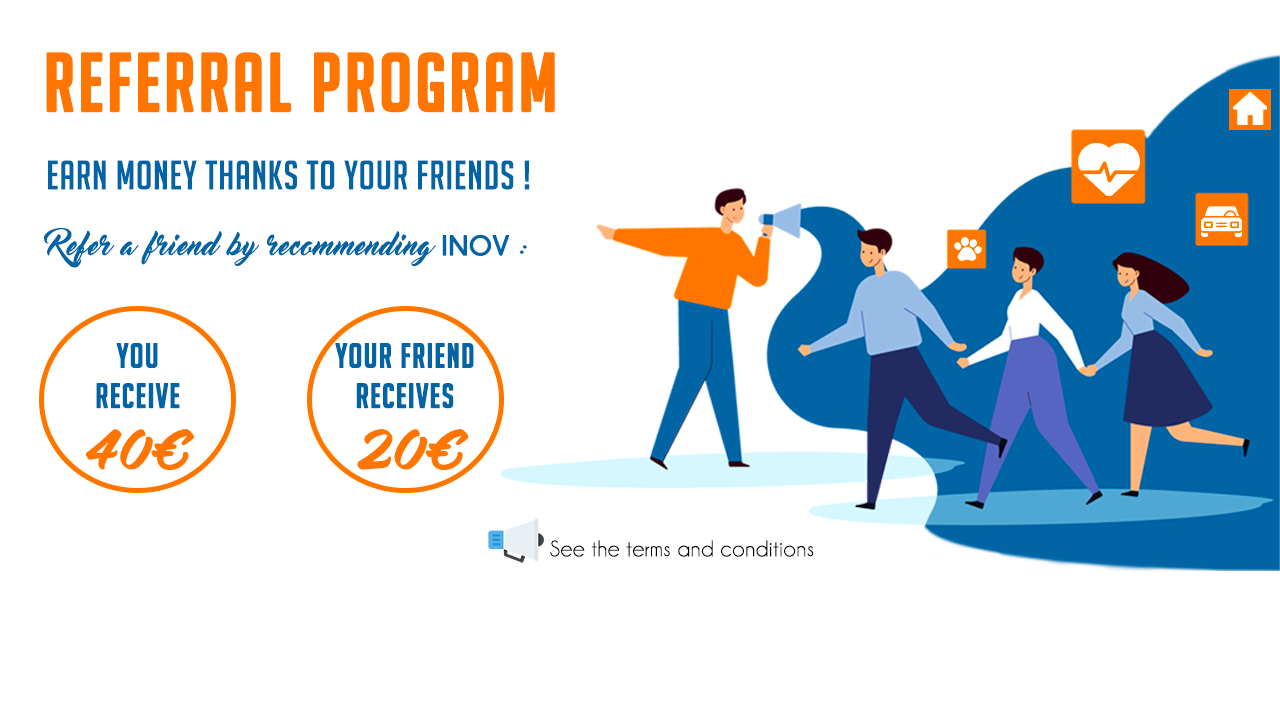 Terms and conditions of our referral program
To benefit from our referral program, first of all you must subscribe to an insurance contract or you already must be an Inov's customer. If you're not, take out at least automobile, motorbike, home, health, multi-risk business or life insurance managed by INOV Expat, for an annual premium of € 175 or more .
For more details on this referral program and to consult the exact conditions, we invite you to click on the following link: see now.
Inov Expat : Who are we?
INOV Expat is an insurance brokerage firm aimed at expatriates in Spain and Portugal
INOV Expat is right there to help you: giving you the best advice on insurance, in English!
In fact, after 14 years, INOV Expat, an insurance brokerage firm, specialises in insurance for French and English-speaking expatriates in Spain and Portugal, at their destinations. As insurance professionals, we've signed partnership agreements with the best insurance companies in the market. All INOV Expat consultants are expatriates who will be able to advise you best in the language of your choice (English, French, Russian, Spanish, Portuguese…)
Ask you free quote online : car, health, home, life, travel, others. Look at our website inovexpat.com or contact us by e-mail at [email protected], by telephone at +34.93.268.87.42 or WhatsApp +34.627.627.880