Guide to Home Insurance in Spain
Yohan Leuthold
Guide to Home Insurance in Spain
What is Home insurance?
Fire, water damage, natural disasters and burglaries ... your living space needs insurance. The purpose of home insurance is to cover the building, the contents (your belongings) as well as the civil liability of their occupants. More than just protection, this insurance guarantees your well-being inside your living space.
Why do you need home insurance?
Mandatory or not?
Home insurance in Spain is not mandatory. However, it is strongly recommended. In any case, the common parts of a co-ownership ("comunidad de vecinos" in Spain) must be insured.
For what purposes?
If you are a tenant, it is recommended that you insure your belongings (contents) and if you are an owner, it is advisable to insure your belongings and the building. Note that most of the home insurance contracts include liability for you and your family.
For what covers?
Your home insurance in Spain can cover fires, water damage, break-ins, burglaries, natural disasters, damaged electrical appliances in the event of a power failure, etc., etc. and the most important, your civil liability.
Did you know?
From January to September 2019, burglaries increased by 32% in Barcelona, ​​compared to the same period in 2018.
In total, according to the Mossos d'Esquadra, burglaries increased by 20% over the whole of 2019.
To calculate your premium, you have to ask yourself the right questions:

Owner or tenant?
Your home insurance premium is generally higher if you are an owner. This is due to the extent of the guarantees: you must insure the building and your movable property if you are an occupying owner.
Secondary or main residence?
The insurance premium will be more expensive if you insure a second home. Indeed, being less inhabit, the risk of burglaries is bigger.
Your place of residence?
The amount of the home insurance premium in Spain also varies depending on the place of residence. If you live in a non-urban area the premium will be lower. Likewise, depending on your region in Spain, the amount of your premium may vary.
Your accommodation?
You must take into account the number of rooms in your home as well as the movable capital to be insured. This is the gross value of your home but also the value of your furniture.
In Spain, there are 3 main types of home insurance contracts: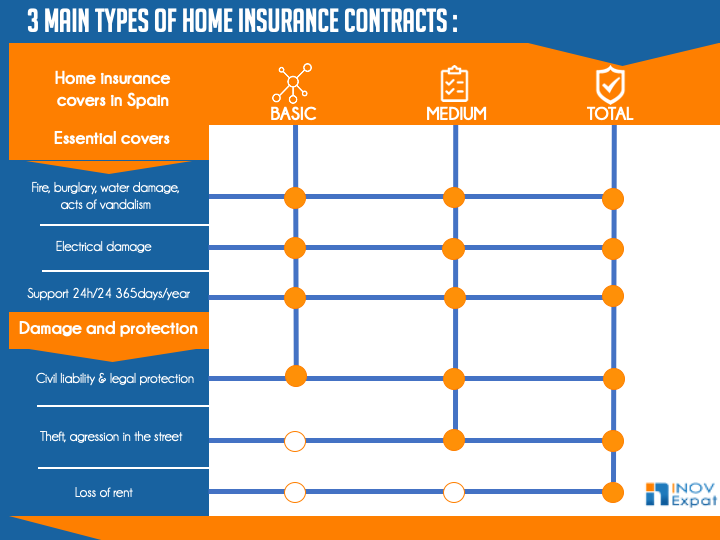 How to buy real estate in Spain?
Acquiring real estate in Spain is relatively simple, you need to have three elements:
Identity document: An identity card or passport for European citizens.
The NIE: It will be requested for each of the purchasers who will appear on the notarial deed.
A notary: For all the procedures, you must go to a notary or a representative, whom you will have designated beforehand before a notary.
Do you still have a few questions? Consult our

Home Guide

and find out all the details of home insurance in Spain.
Inov Expat : Who are we?
INOV Expat is an insurance brokerage firm aimed at expatriates in Spain and Portugal
INOV Expat is right there to help you: giving you the best advice on insurance, in English!
In fact, after 14 years, INOV Expat, an insurance brokerage firm, specialises in insurance for French and English-speaking expatriates in Spain and Portugal, at their destinations. As insurance professionals, we've signed partnership agreements with the best insurance companies in the market. All INOV Expat consultants are expatriates who will be able to advise you best in the language of your choice (English, French, Russian, Spanish, Portuguese…)
Ask you free quote online : car, health, home, life, travel, others. Look at our website inovexpat.com or contact us by e-mail at [email protected], by telephone at +34.93.268.87.42 or WhatsApp +34.627.627.880