Guide to Health Insurance in Spain
Yohan Leuthold
Guide to health insurance in Spain
Read our guide to health insurance in Spain to know everything about health insurance and public health system. How does it work? Comparison between both systems. Should I get a health insurance? Why? Witch contract is best for me? All the information is here for you.
How does the public health system work?
1.Where can I get health care?
You are assigned to the health center (centro de salud) of your district. To register you need to provide your social security number and your address. If you do not have a social security card, you can ask for one during your registration in a health center (but you will have to wait around a year to receive it).
2. Can I choose my doctor?
In this center, an attending physician (medico de cabecera) will be assigned to you. Henceforth, he or she will be the one to talk to. If you are not satisfied, you can ask to your health center to assign you another one.
3. And if my doctor is not available?
If you are sick and for any reason your doctor cannot see you, you should go to the doctor on call, in the same health center. Go to the front desk and you will get a ticket to see this doctor.
4. How to get an appointment with a specialist?
If you need an appointment with a specialist, you must see first your attending physician, who will make the appointment for you. He or she will give you an appointment sheet with the name of the specialist.
Why taking a private insurance?
1. Can I avoid queuing?
Yes, the private healthcare system will give you a faster access to care services. Thus, you won't have to wait in queues like in public centers.
2. Can I choose my doctor?
The private insurance in Spain gives you the possibility to choose your doctors and hospitals, with fast interventions and direct access to specialists.
3. Do I have additional services?
Yes, the private healthcare system gives you the right to additional services not included in the National Health System such as check-ups, acupuncture, dental services, podiatry, etc.
4. Do I have access to additional help?
If you do not feel comfortable with the Spanish language, many private healthcare professionals can answer you in English. Don't hesitate to contact INOV Expat to get the list of the professionals nearby.
The comparison of both systems: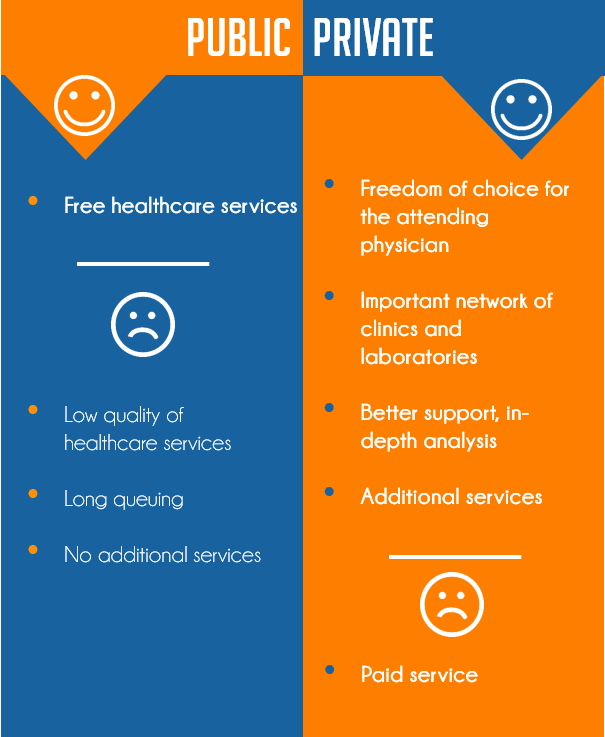 The expert's point of view:
"I always advise my clients to have an
affiliation in the public system and also a
private insurance in order to benefit from
both system's advantages. If they do not feel
comfortable with the Spanish language,
especially when it is about their health, I tell
them that they have access to a list of
healthcare professionals. Moreover, do not
forget about the waiting period in case of
surgical intervention. If you bring the
certificate of your old health insurance,
those periods will be eliminated."
Julia Jannin
Inov Expat CEO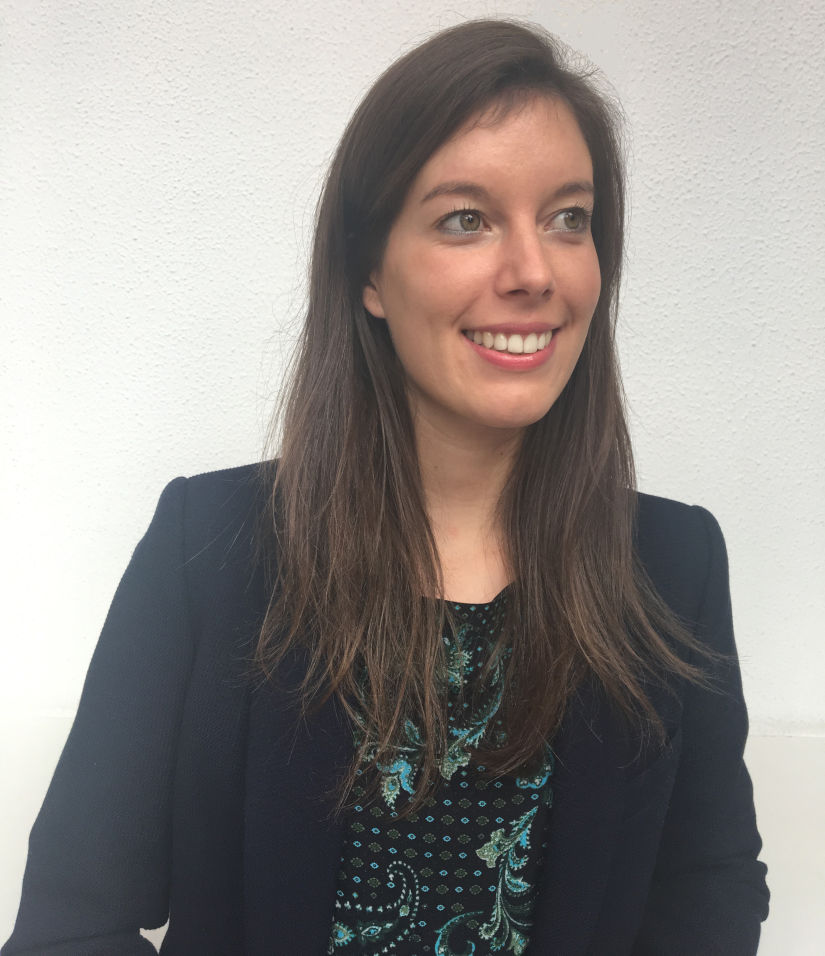 Comparing companies and health contracts before taking out insurance is essential !
Different factors influence the price of your insurance such as: your age, your profession, the level of guarantees and the number of persons in charge. This is why it is important to get personal advice from professionals who will be able to find the insurance you need.
There are 3 types of health contracts offered by companies: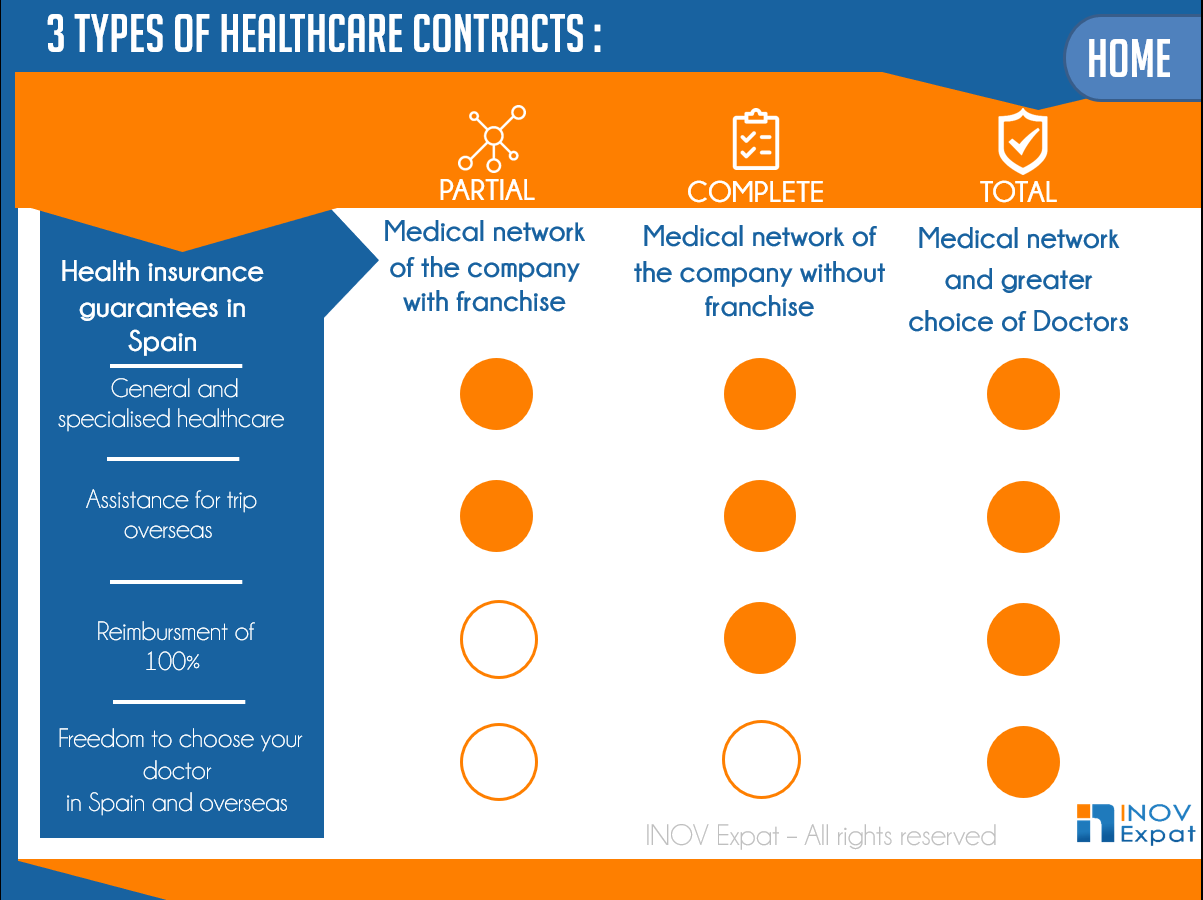 INOV EXPAT advice: Ask for the healthcare card!
Why take health insurance: The Healthcare card benefits
avoid queuing and obtain fast services (in emergencies for example)
choose your physician, your hospital or your clinic
You will benefit:
private room in case of hospitalization
repatriation service
Travel insurance
You will not have to pay for anything, just show your healthcare card and your insurance company will pay for your expenses.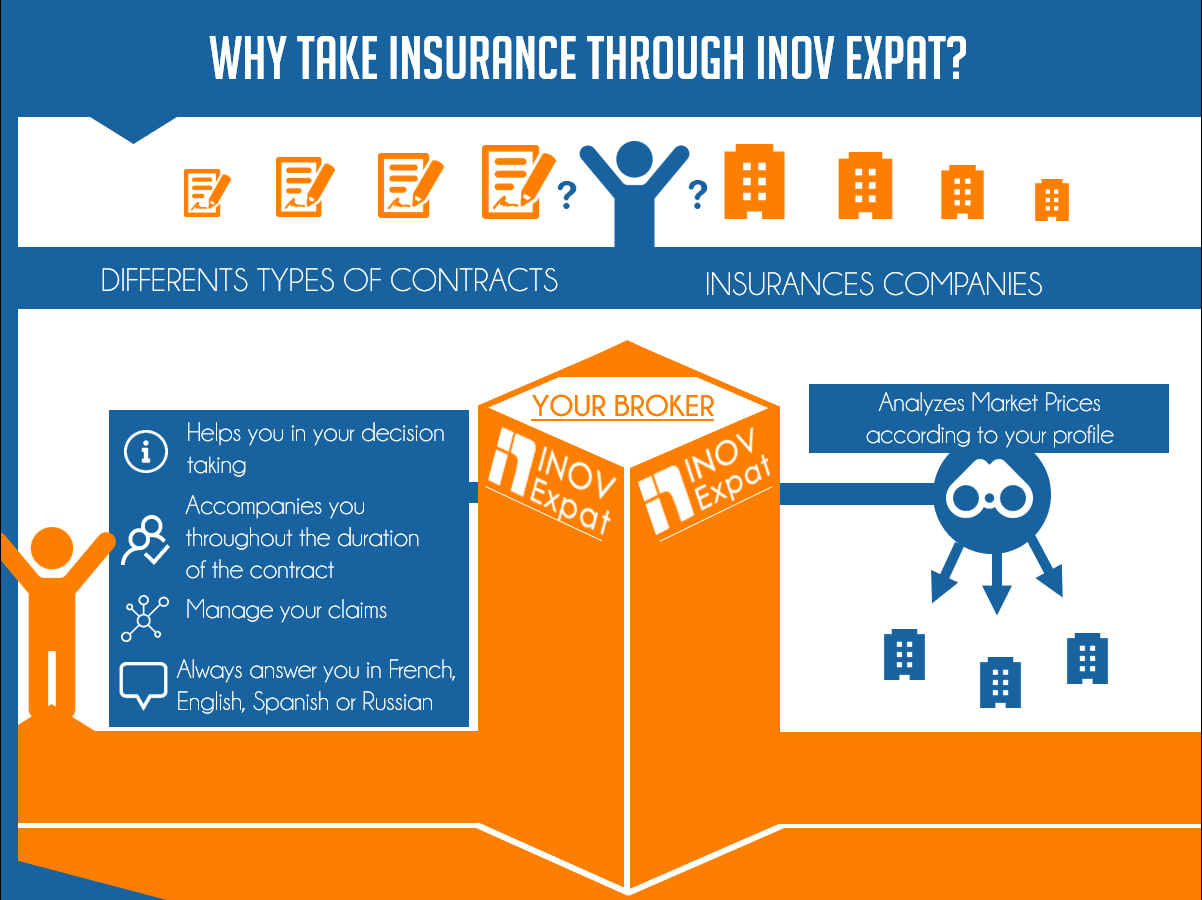 How can INOV Expat help you find the best health insurance in Spain?
You probably now understand that choosing your health insurance means taking the time to ask good questions and compare offers. But, it's not always so easy to know who to trust with these types of guarantees when you arrive in a new country and haven't got the time to handle all the administrative issues and even less so when you still aren't proficient in the language…
INOV Expat is right there to help you: giving you the best advice on insurance, in English!
In fact, after 14 years, INOV Expat, an insurance brokerage firm, specialises in insurance for French and English-speaking expatriates in Spain and Portugal, at their destinations. As insurance professionals, we've signed partnership agreements with the best insurance companies in the market. All INOV Expat consultants are expatriates who will be able to advise you best in the language of your choice (English, French, Russian, Spanish, Portuguese…)
Ask you free quote online : car, health, home, life, travel, others. Look at our website https://www.inovexpat.com/en/home/ or contact us by e-mail at [email protected], by telephone at +34.93.268.87.42 or whatsApp +34.627.627.880