Diagram of the Spanish Health System!
Yohan Leuthold
Diagram of the Spanish Health System!
Spain is a full of life country, and pleasant to live in. This is undoubtedly the reason why more and more English people come to settle there each year. Going abroad also means updating yourself with your insurance policies. The Spanish health system has its own peculiarities, and it is sometimes difficult to navigate.
But then how to properly differentiate the public system from the private system? We have drawn up a diagram of the Spanish healthcare system , which groups together the main criteria and information you will need to see more clearly.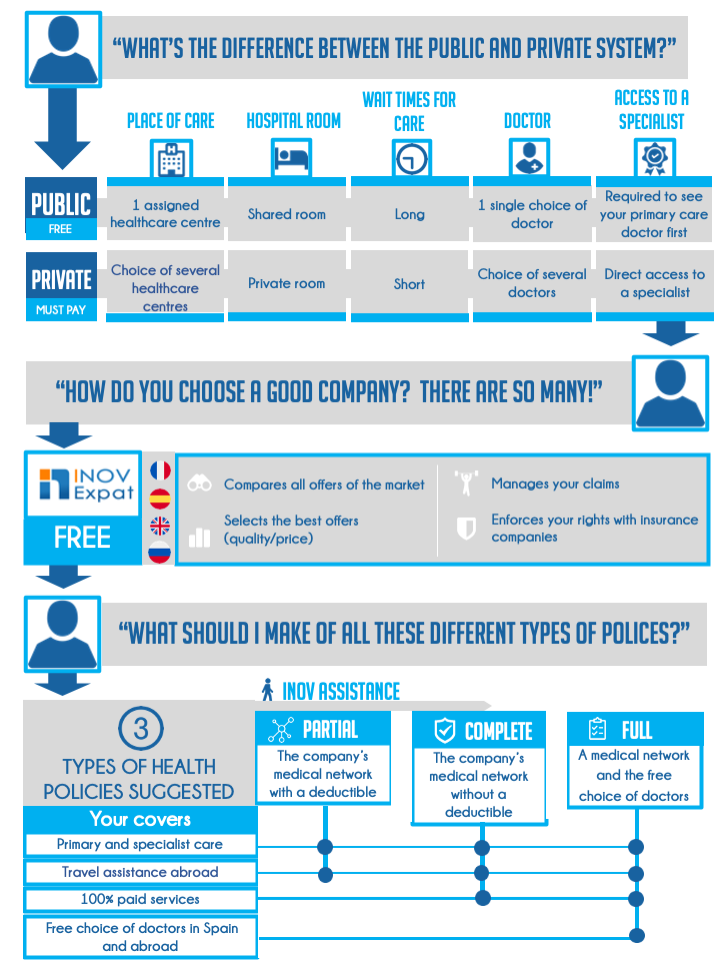 Spanish Health System: Advantages of the private health insurance
The full contract is the most expensive, but has the best coverage in Spain, in some cases it can quickly pay for itself. In that case, the insurance covers 100% of the fees of general and specialized medicine. It provides access to a large network of general practitioners, specialists, hospital assistance and travel assistance abroad.
Free choice of the doctors: If the insured consults a doctor outside the company's network, in Spain or even abroad, coverage will be 80% of the amount.
If you speak little or no Spanish, the Full contract is made for you since it gives access to a network of English-speaking general practitioners and specialists.
Finally, natural medicines (Acupuncture, homeopathy, manual therapy, etc.) are also covered by the Full contract.
INOV Expat: Who are we?
INOV Expat is an insurance brokerage firm aimed at expatriates in Spain and Portugal
INOV Expat is right there to help you: giving you the best advice on insurance, in English!
In fact, after 14 years, INOV Expat, an insurance brokerage firm, specialises in insurance for French and English-speaking expatriates in Spain and Portugal, at their destinations. As insurance professionals, we've signed partnership agreements with the best insurance companies in the market. All INOV Expat consultants are expatriates who will be able to advise you best in the language of your choice (English, French, Russian, Spanish, Portuguese…)
Ask you free quote online : car, health, home, life, travel, others. Look at our website inovexpat.com or contact us by e-mail at [email protected], by telephone at +34.93.268.87.42 or WhatsApp +34.627.627.880